January is the start a many things...a New Year, a new resolution, a new attitude, and my newest favorite - New Wedding Shows!
This coming weekend there are 2 big Wedding Expo's in my area so I have invited my Bridesmaids on a Girls Weekend! Wedding Expo by day, Downtown Get Down by Night!
I wanted to Thank them in a way more than just making a card or giving a verbal Thank you for the girls taking the time out of their busy schedule to give me an entire weekend of their time - so I have put together a "
Girls Weekend Survival Kit
"!
Buttons:
I have been looking for Buttons for us to wear while at the Bridal Shows but I just couldn't find any that appealed to me - they, in one word were, BORING! So I decided to go to my local craft store - get some Button Kits & Make my own, here's what I came up with: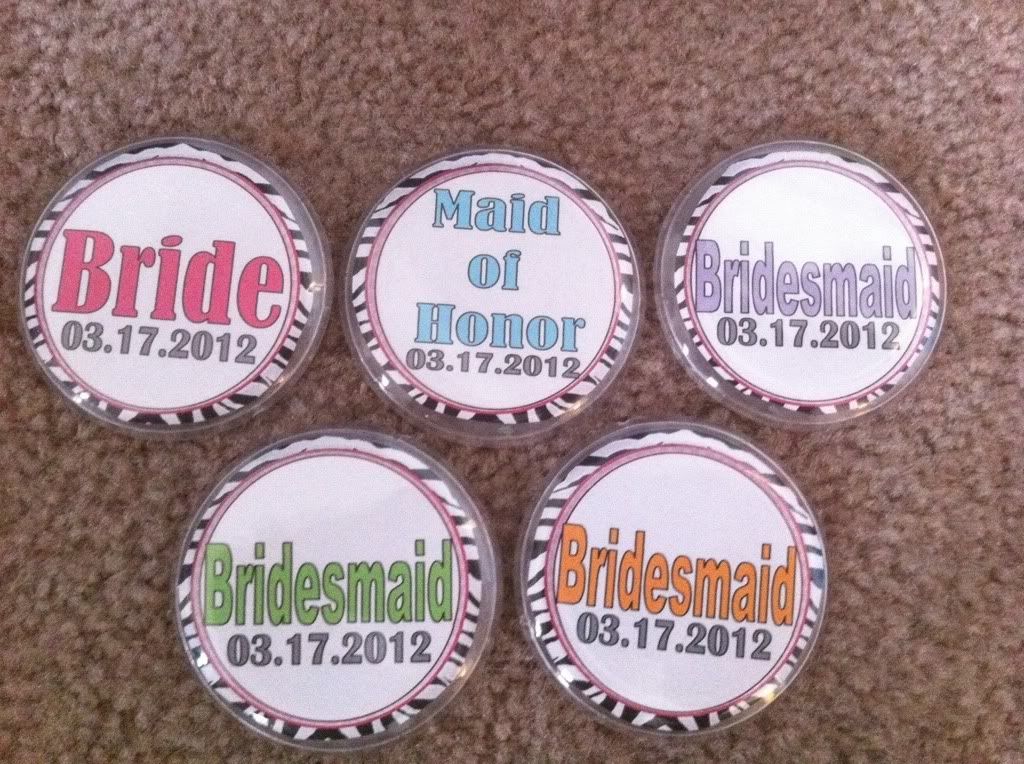 Hangover Kits:
Due in large part that we are getting a hotel room downtown for Saturday Night and plan on going out and having a good time with just the girls, I thought a Hangover kit would be the perfect addition to this Girls Weekend Survival Kit!
Kit Includes:
1 pack of Saltine Crackers
2 Hello Kitty Bandaides
1 Lip Smackers
1 Tang Electrolite Drink Mix
1 pkg of Chewable Pepto
1 pkg of Extra Strength Tylenol
1 Hair Tye
1 Make Up Remover Wipe
1 Small pack of Gum
1 Pkg of Drinkin' Mate - Hangover Medicine
(All items were purchased at http://www.minimus.biz/ <- Love this site!)
First Picture shows what is in each kit, the Second Picture is the finished Hangover Kits!
Other things found inside the bag - a feather boa in their favorite color, which also matches the bag it is in, a pink shot glass that says "Girls Night Out" and a little baggie of 4 Mardi Gras Beads! I purchased Zebra Print tissue paper from Hobby Lobby, the bags from Party City, the Zebra Ribbon from Hobby Lobby and the Name plates on the bags I created myself using Sticker Paper & Scrapbook paper.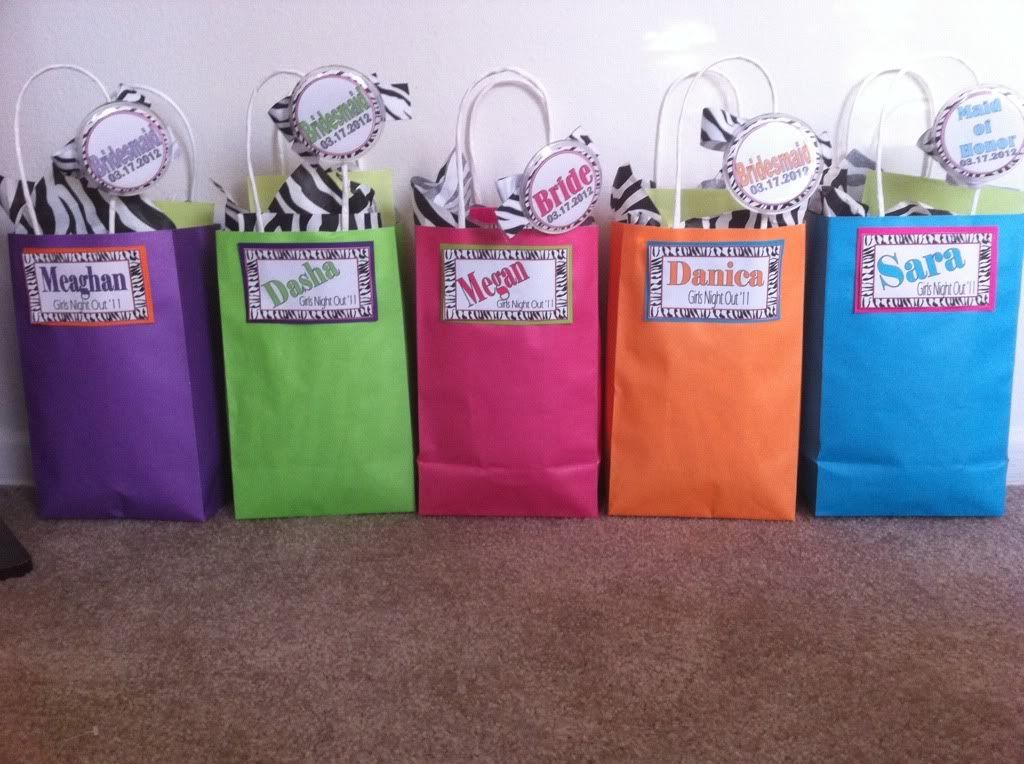 My next project is to work on the Address Labels for the Wedding Expo & The Jello Shot stickers! Yep thats how we roll - we are getting together tomorrow (Friday Night) to mix up some Jello Shots for Saturday Night!
Sooo...what do ya think?