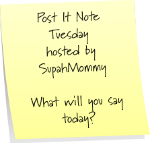 Another week, Another Post-It Note Tuesday! This is probably one of my FAV blog carnivals to
do every week! Thank you
Supah Mommy
for coming up with this great idea! So here it goes, enjoy! & remember if you comment for me, I'll come and comment for you!!
That was fun wasn't it? If you want to join the fun please click on over to Supah Mommy's blog and link up! It's really easy and TONS O FUN
!! I look forward to reading everyone's Post Its! Have a great day and Thanking you for reading!