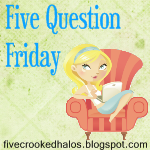 Thank you again to Mama M @
Five Crooked Halos
for hosting yet another "Five Question Friday" blog carnival! I've noticed I really look forward to these everyweek! I think I do more Carnival's than anything else! So on the 5Q & 5A part...
1. Which boygroup did you like most in your teens?
That would be a toss up between N'Sync and Backstreet Boys - they were just starting when I was a tween and really hit full force when I was in my early teen years - Not so much of a fan now - but I used to have their posters taped literally from floor to ceiling on every wall in my room! Even had a few of Justin Timberlake on my ceiling! I'm really embarrassed to say that! haha
2. Do you do Christmas cards, letters, photos, nuthin', all of the above?
We do Christmas cards with a photo of the family but that's about it through the mail. Then of course we do the whole gift giving and volunteering thing.
3. If you could meet one celebrity who would it be and why?
Hmmm...one celebrity...wow that's a tough one! I've met quite a few musicians so I would probably say that it would be really great to meet someone like Johnny Depp or George Clooney! They just seem like amazing men! Oh & they're HAWT!!
4. Favorite thing to cook with (i.e. stainless, non-stick, Dutch oven, microwave, debit card...or, perhaps, a cauldron, etc.)?
HAHA...love this question! I would have to say that I use my debit card but the microwave comes in at a close second! I do however love to back goodies like cookies, cakes, pies, and brownies - but nothing worthy of calling dinner. I was an only child and was never really taught how to cook. It was just always done for me - but It is part of my
30 Before 30
list! To take cooking lessons and cook Thanksgiving dinner for my family!
5. What is the one thing you wear the most, besides your unmentionables?
I love wearing jeans and my chuck taylors! If im not in my jammies or in my work clothes you will def catch me in that - they are just so comfortable and you can "almost" make it work with anything!